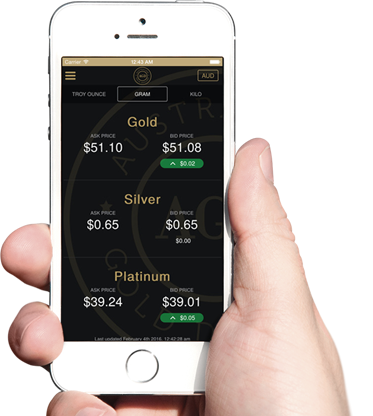 Gold, platinum and silver—these three metals have symbolised wealth since ancient times and the attraction to these metals is expected to stay around for a long time. While many relate these metals with jewellery, some also consider them a good investment.
Coming from the house of AGD Precious Metals, the AGD Precious Metals app brings you real time information on gold, platinum and silver prices. While you stay updated on the current industry trends, the smart mobile application also provides you with great breakdown of carat and historical data up to a decade.
That being said, let's quickly take a look at the top 6 features of AGD Precious Metals app and how it benefits you:
Switch between currencies like never before
Dealing in gold, platinum or silver but don't have access to an app that deals in multiple currencies? AGD Precious Metals is the app for you. Whether it's about live pricing or historical data, this smart iPhone, iPad and Android app allows you to switch efficiently between Australian Dollars and US Dollars.
Gain access to historical data
Are you someone who loves digging into the previous trend of metals? Or are your purchases mostly based on lots of research and data? If so, then download the AGD Precious Metals app. Get access to pricing trends of gold, platinum and silver day to day, monthly, annually, 5 yearly & 10 yearly.
Be versatile & stay updated on multiple metal types
Want to stay well-informed on all prominent metals? Gone are the days when you had to download different mobile applications to stay abreast of gold, platinum and silver. All you need is AGD Precious Metals in your phone and you're done. Not only will you get live pricing of gold, platinum and silver but you will also get an opportunity to dive in the historical data of the aforementioned metals.
Get hands on easy currency conversion
Do you often swap between a metal app and a currency calculator? Well, with AGD Precious Metals, you don't need that extra effort. Made with a customer-centric approach, this app is very user-friendly and provides you with easy AUD to USD currency exchange rates while you do live business of gold, platinum and silver.
Keep up on real time pricing
Looking for an app that allows you to work like an industry pro? Simply download to your Apple or Android device and sit back to see all the pricing updated as fast as it's announced. Easy to understand graphical representations along with eye catching displays of price fluctuations translate into smooth business transactions.
Stay connected, stay enlightened
Seeking a comprehensive app that does more than providing you with real-time pricing updates of precious metals? This app allows you to stay up-to-the-minute with the latest industry happenings, developments and news relevant to you. So no more downloading of multiple applications when you can read directly from AGD Precious Metals!